Terms of Service
We take all reasonably necessary measures to protect User Personal Information from unauthorized access, alteration, or destruction; maintain data accuracy, and help ensure the appropriate use of User Personal Information. We follow generally accepted industry standards to protect the personal information submitted to us, both during transmission and once we receive it. No method of transmission over the internet or method of electronic storage is 100% secure. Therefore, we cannot guarantee its absolute security.
We do not knowingly solicit data from or market to children under 18 years of age. If you are a parent or guardian and you are aware that your Child has provided us with Personal Data, please contact us. If we learn that we have collected Personal Data from children without verification of parental consent, we will remove that information from our records.
If ownership of all or substantially all of our business changes due to merger, acquisition or consolidation, your personal information will likely be among the assets transferred. You will be notified via email of any such change in ownership or control of your personal information.
Privacy Policy
At ACloudpage ("We", "Us", "Our"), we respect the client's ("You", "Your" or "User") privacy and take protecting it seriously. The personal data we collect and process is relevant, adequate and not excessive in relation to the purpose sought.
Google log-in and Google OAuth 2.0 authorization will authenticate your identity and provide you the option to share certain personal information with us such as your email address. The information you provide is held in strict confidence. We collect this information to generate your user license key, send payment receipts and communicate with you about product updates.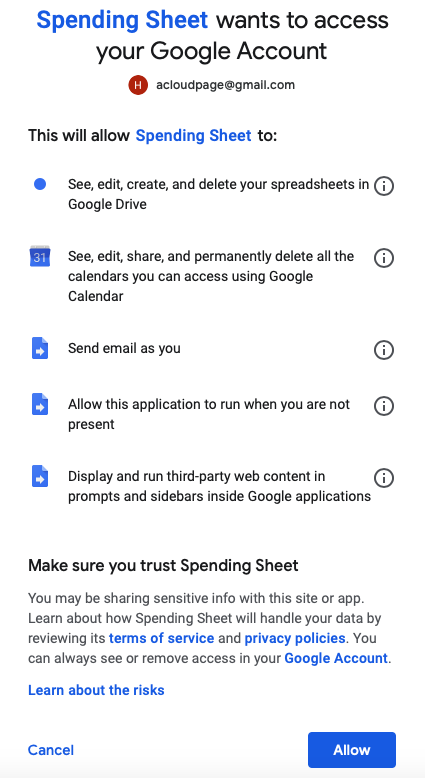 We reserve the right to disclose your personal information where we are legally required to do so in order to comply with applicable law, governmental requests, a judicial proceeding, court order, or legal process such as in response to a court order or a subpoena (including in response to public authorities to meet national security or law enforcement).
We may disclose your information where we believe it is necessary
To protect and defend our rights or property
To prevent or investigate possible fraud and wrongdoing in connection with the Service
To protect the personal safety of users of the Service or the public
To protect against legal liability
As is true of most websites, we may gather certain non-personal statistical information automatically and store it in cookies and log files. This information includes device and usage information, such as IP address, browser version, operating system, date/time stamp, and other interactions with the application. We use this information primarily for internal analytics and reporting purposes, to identify potential cases of abuse and to help resolve technical problems.
We may occasionally send you service-related email announcements when it is necessary to do so. For instance, we may send out notifications regarding service related issues such as maintenance periods, billing problems, and other items that may impact service.
If your personal information changes, or if you no longer desire our service, you may delete or deactivate it by uninstalling it.
We use other third parties payment service, PayPal, to bill you for services; and email service to assist you if you have questions while using our services or regarding your order. We neither store nor have access to your credit card or financial account details.
Our website may include social media features, such as the Facebook "Like" button. These features may collect your IP address and the page you are visiting on our website. This information does not reveal your specific identity. It may also set a cookie to enable the features to function properly. Social media features are either hosted by a third party or hosted directly on our website. Your interactions with these features are governed by the privacy policy of the company providing it. You should review the policies of such third parties and contact them directly to respond to your questions.
Our Warranties and Disclaimers
We provide our Services using a reasonable level of skill and care and we hope that you will enjoy using them. But there are certain things that we don't promise about our Services.
We don't make any commitments about the content within the services, the specific functions of the services, or their reliability, availability, or ability to meet your needs. User assumes full responsibility for selection, possession, performance, proper installation and use of the service and for verifying the results obtained. We provide the services on an "as is" and "is available" basis. In no event shall Acloudpage be liable for any damages (including, without limitation, damages for loss of data or profit, or due to business interruption) arising out of the use or inability to use our software and services.
In no event shall we support or be liable for any damage (including, without limitation, damages for loss of data or profit, or due to business interruption) resulting from alteration or changes made to the products and services by the user.
We may update our Privacy Policy from time to time and post the new Privacy Policy on this page. You are advised to review this Privacy Policy periodically for any changes. Changes to this Privacy Policy are effective when they are posted on this page.
This policy is effective February 1st, 2020.
Main | Terms of Service, Privacy Policy, Warranties and Disclaimer | How to use